RAZOR WILD ONES KICK SCOOTER JR UNICORN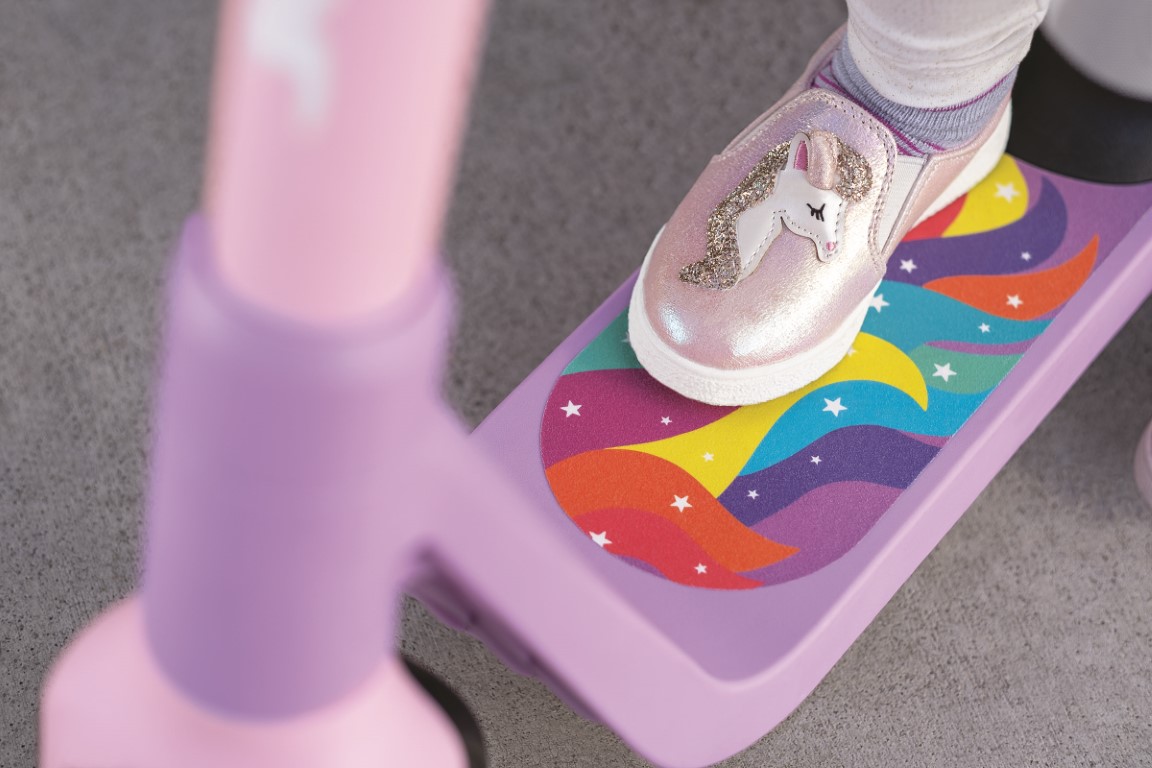 With a low deck perfect for little learners, Wild Ones Junior kick scooter Unicorn keep kids and their feet closer to the ground, enabling them to learn to balance and build the skills – and the confidence – needed to master two-wheeled rides.
SKU
RAZOR WILD ONES KICK SCOOTER JR UNICORN
Features
Learn to Balance and the build the skills needed to ride a two-wheeled scooter with a wide, low deck that keeps kids closer to the ground!

Two extra-wide, slow-rolling wheels made for indoor or outdoor use, eliminate the need for a third wheel, reducing the hesitation of transitioning from a three-wheeled to a two-wheeled scooter.

Extra-wide, low deck featuring character-inspired grip tape graphics teaches kids appropriate foot placement and makes it fun to ride just like the big kids.

Three awesome character designs to choose from – Shark, Dinosaur, and Unicorn – each with a fun 3D eye and colorful deck.
Specs
Frame: Injection-molded plastic

Handlebars: Steel-reinforced with 3D (lenticular) eye graphic

Grips: Soft, foam

Deck: Low to the ground, extra-wide, character-inspired graphics on full-deck grip tape

Wheels: 6.5" (164 mm) diameter, 3" (76.2 mm) wide, slow-rolling, high quality injection molded wheels with outer rubber tires

Patents Pending

Adult Assembly Required

Assembled Product Dimensions: 26.06" (66.2 cm) x 10.55" (26.8 cm) x 22.24" (56.5 cm)

Product Weight: 6.1 lb (2.77 kg)

Rider Type
Age: 30+ months

Max Rider Weight: 20 kg (44 lbs)
Important Safety Guidelines
Rider weight does not necessarily mean a child's size is appropriate to fit or maintain control of the product. 

A parent's decision to allow his or her child to ride this product should be based on the child's maturity, skill and ability to follow rules

Always wear appropriate protective gear, such as helmet, knee pads and elbow pads. Always wear shoes.

CHECK LOCAL LAWS REGARDING SCOOTER USE

Not to be used in public streets or in areas where vehicle traffic is present

Obey all local traffic and scootering laws and regulations

To be used only in controlled environments

Do not use at night or when visibility is impaired

Children under 30 months are not allowed to use this scooter

Children should ride with adult supervision at all times

Never allow more than one child at a time to ride a scooter.

Scooters are intended for use on solid, flat, clean and dry surfaces, such as pavement or level ground without loose debris, such as rocks or gravel. Wet, slick or uneven and rough surfaces may impair traction and contribute to possible accidents. Do not ride a scooter in mud, ice, puddles or water. Avoid excessive speeds that can be associated with downhill rides.

FAILURE TO USE COMMON SENSE AND HEED THE ABOVE WARNINGS FURTHER INCREASES RISK OF SERIOUS INJURY. USE AT YOUR OWN RISK AND WITH APPROPRIATE AND SERIOUS ATTENTION TO SAFE OPERATION. USE CAUTION

WARNING: 

ALWAYS INSPECT SCOOTER PRIOR TO RIDING. Properly 

inspecting and maintaining your scooter can reduce the risk of injury. Always inspect your scooter before riding and regularly maintain it.
More Information

| | |
| --- | --- |
| Product Name | RAZOR WILD ONES KICK SCOOTER JR UNICORN |